Alpine Skiing & Snowboarding
The Adirondack Region is an ideal winter destination for alpine skiing and snowboarding enthusiasts looking to challenge themselves on the slopes while surrounded by picture-perfect scenery.
Home to some of the highest peaks in the northeast, the Adirondacks are ideal for downhill skiing and snowboarding adventures. A stunning mountain range located in Northern New York, it is a popular destination for alpine skiing and snowboarding. Not only are the ski resorts here comparable to some of the most renowned western resorts, but they are also incredibly affordable and easy to access.
Skiers and snowboarders will find terrain for all levels, from beginner to expert, with plenty of runs for kids and enjoyable glades for more advanced riders.
Whiteface Mountain
Whiteface is a place like no other – it has been home to generations of winter sports enthusiasts since the 1930s. From Snowboarding to Skiing, Telemarking to Cross Country, Whiteface is a playground for all ages and abilities. Its terrain offers something for everyone from beginner through expert with some of the most beautiful views in the Adirondacks.
Whiteface is truly a skier's paradise, offering powder stashes and long runs with a sheer vertical drop of 3,166 feet, the highest east of the Rockies. Spanning over 94 trails and 53 acres of glades, Whiteface provides a diverse terrain that appeals to all levels, from novice to expert. With wide groomed trails, terrain parks, and a dedicated Bear Dean Learning Center to help beginners find their footing on the slopes, there is something for everyone at Whiteface.
Whether you're looking for a peaceful day cruising down groomers or an adventure on its steeps and powder stashes, Whiteface has it all. With no lift lines and no crowds, you won't find a more solitary experience than skiing Whiteface.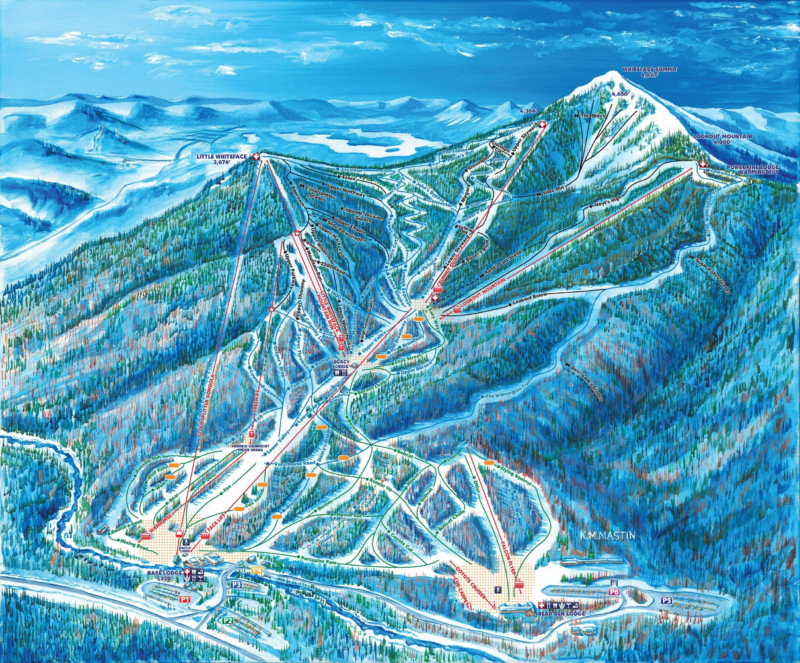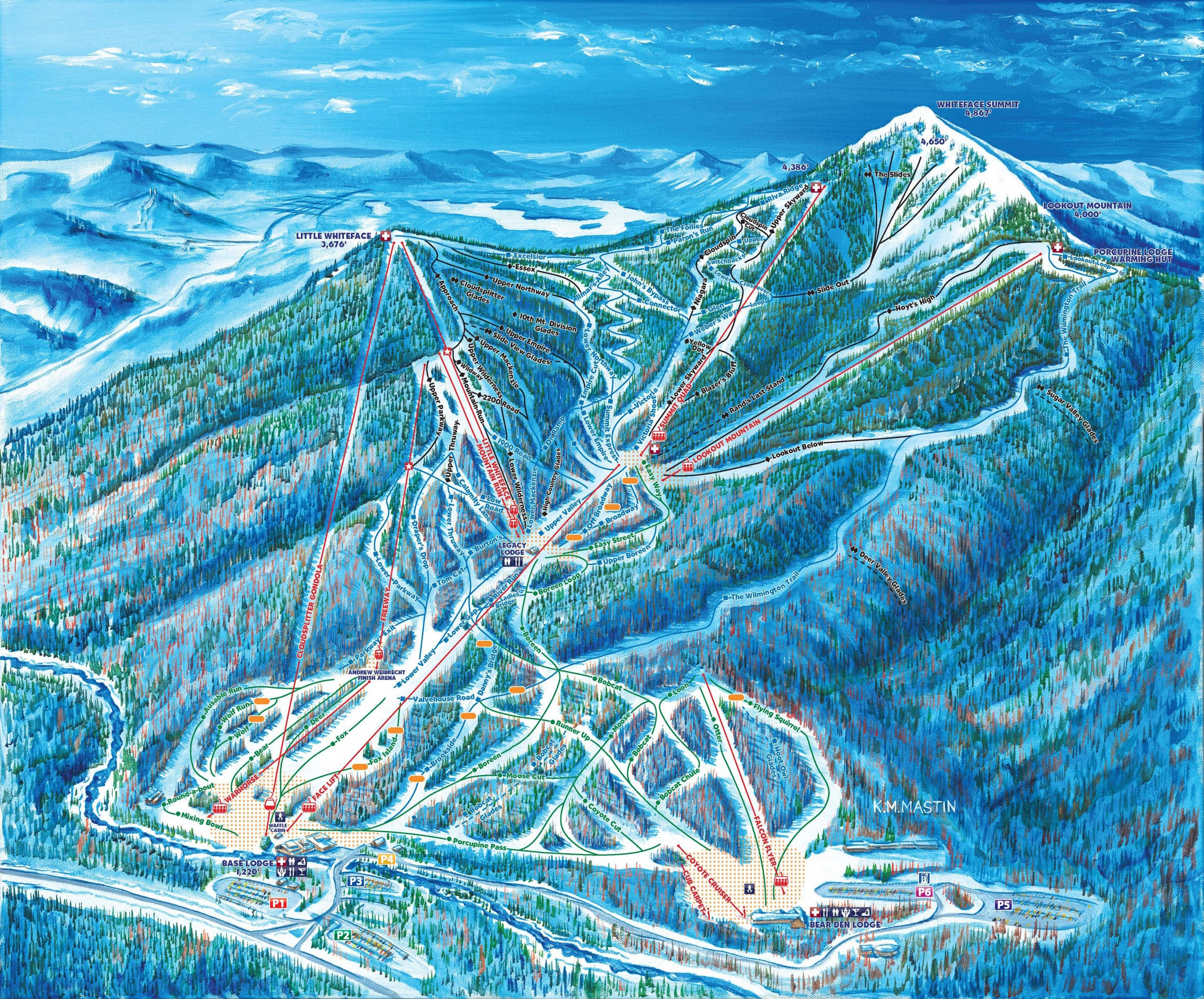 (Click The Trail Map To View As A Hi-Res Downloadable PDF)
Trail Map
Whiteface Mountain, located in the Adirondack Mountains of New York, is home to some of the most renowned skiing and snowboarding in the eastern United States. The mountain boasts an impressive 25 miles of trails that span across three peaks, including a monstrous vertical drop of over 3050 feet — the highest east of the Rocky Mountains! Head over to Whiteface Mountain's conditions page to find the most up-to-date info on lifts, trails and conditions to plan the best ski day ever!
Latest Improvements
As winter approaches, Whiteface Mountain is bustling with activity as they gear up for countless improvement projects. Not only are they in the process of constructing a new quad chairlift, but there have been tower pours starting at the top and base drilling and blasting to lower the load height and make it easier for skiers and snowboarders to get to the Bear chair.
Want to learn more? Check out the YouTube video and read more here.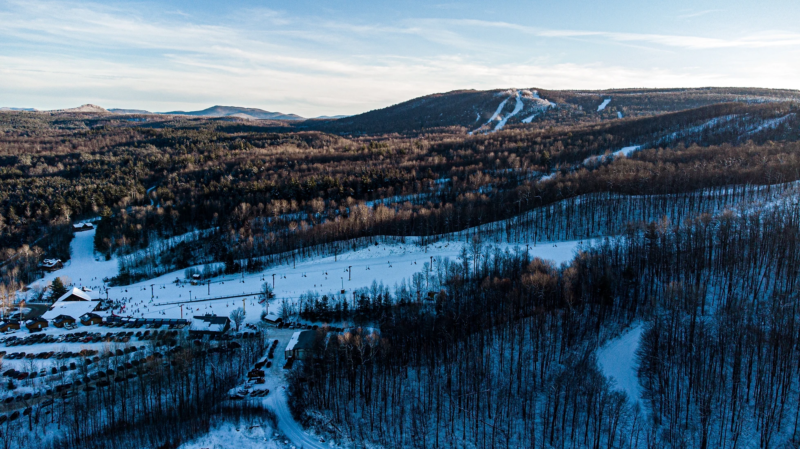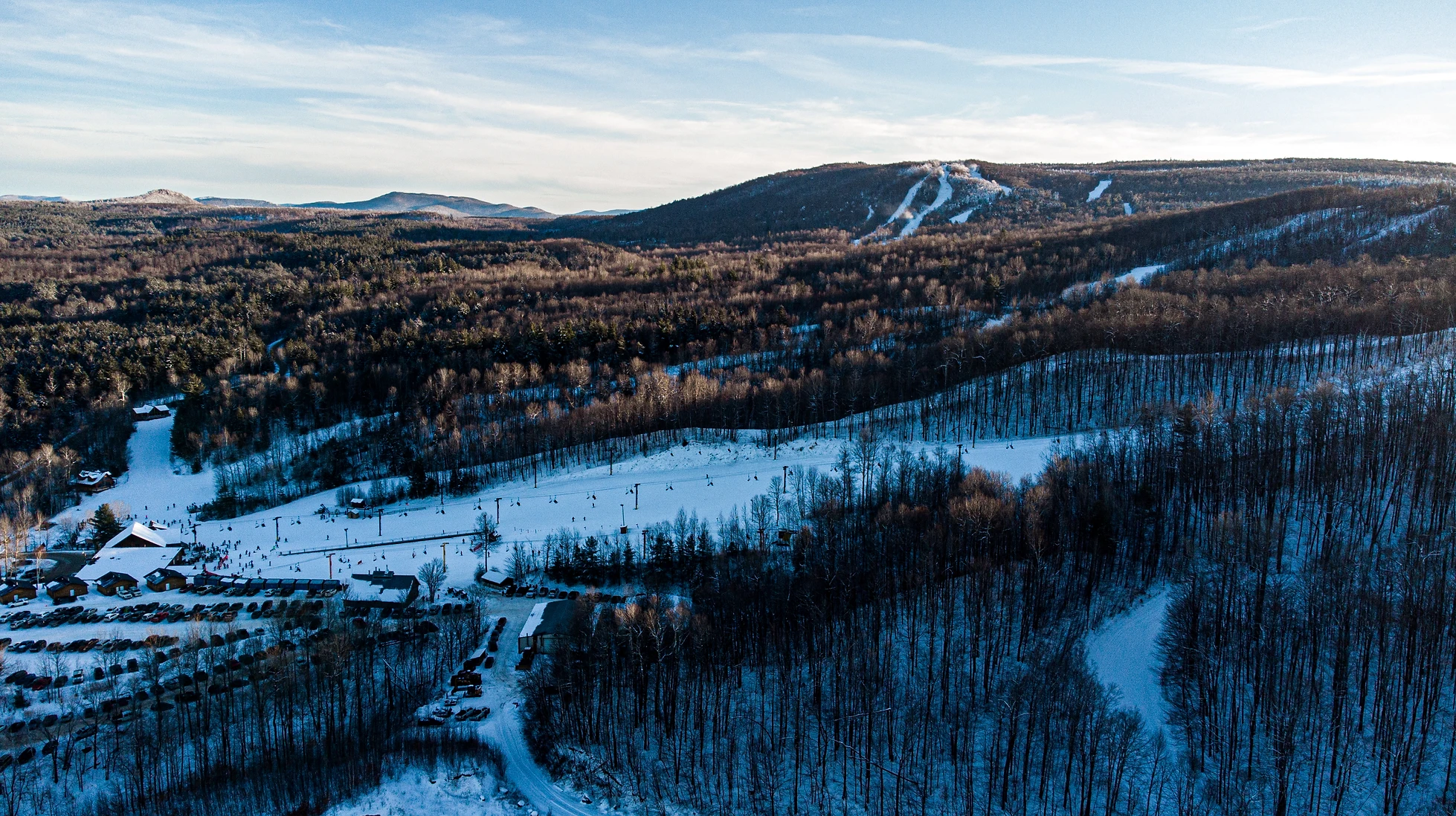 Titus Mountain
Titus Mountain, also known as Titus, is a beloved downhill ski area situated amongst the stunning Adirondack Mountains in northern New York. Located 7 miles (11 km) south of Malone Village, in the Town of Malone and Franklin County, Titus boasts 50 trails and glades that span its three inter-connected mountains. It has a base elevation of 825 feet (251 m), a summit elevation of 2,025 feet (617 m) and a vertical drop of 1,200 feet (370 m).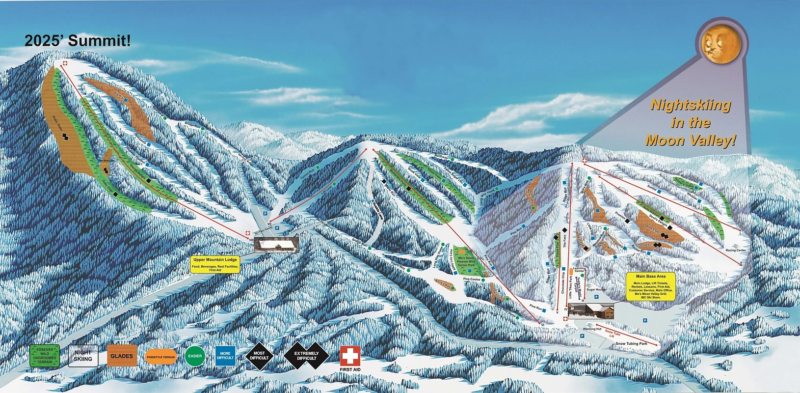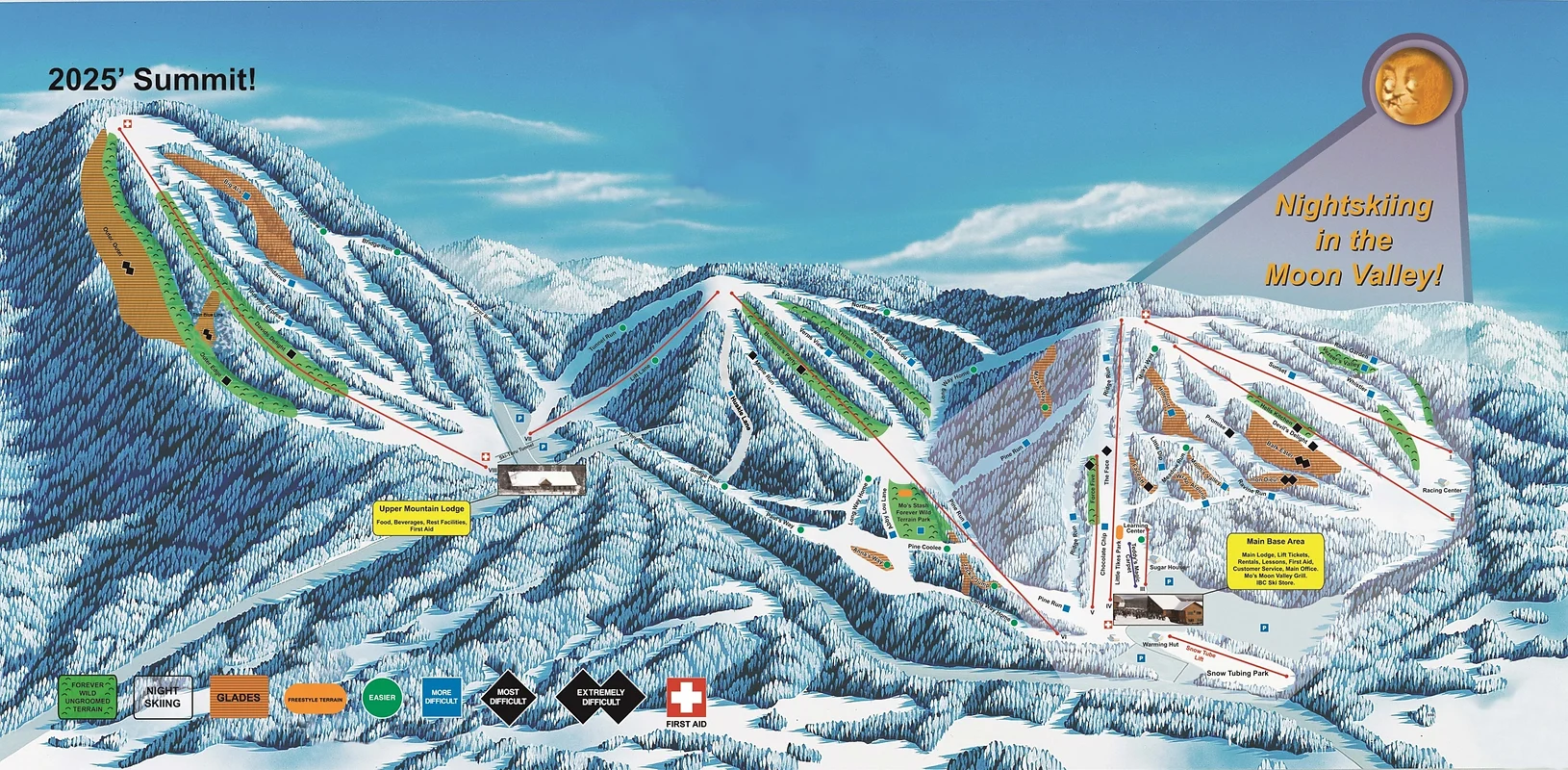 Trail Map
In addition to its ski trails, Titus also has 10 lifts that provide access to the ski areas. For those looking for something different there is also a two-lane tubing hill. Titus Mountain is a well-loved skiing spot for many of the locals and tourists alike that flock to the area every year.
Hours
| Hours | Non-Holiday | Holiday |
| --- | --- | --- |
| Sunday | 9:00am – 4:30pm | 9:00am – 6:00pm |
| Monday | 10:00am – 4:30pm | 9:00am – 4:30pm |
| Tuesday | 10:00am – 4:30pm | 9:00am – 4:30pm |
| Wednesday | 10:00am – 4:30pm | 9:00am – 4:30pm |
| Thursday | 10:00am – 4:30pm | 9:00am – 4:30pm |
| Friday | 10:00am – 9:00pm | 9:00am – 9:00pm |
| Saturday | 9:00am – 9:00pm | 9:00am – 9:00pm |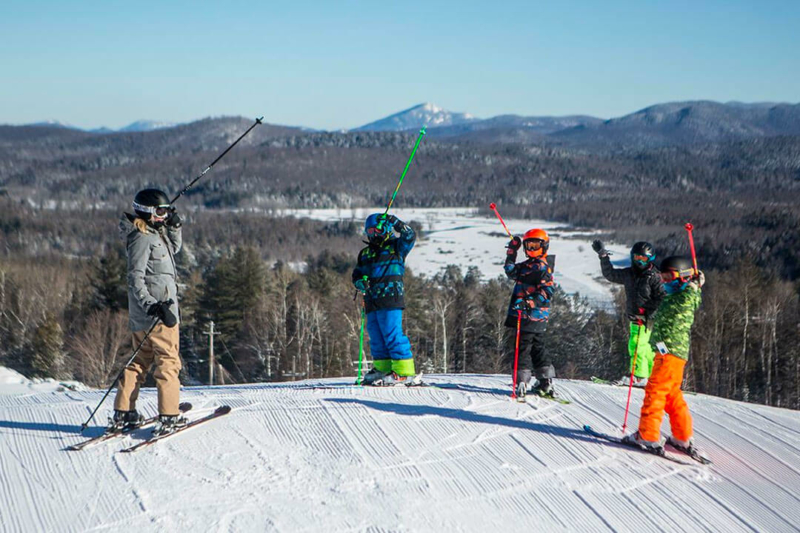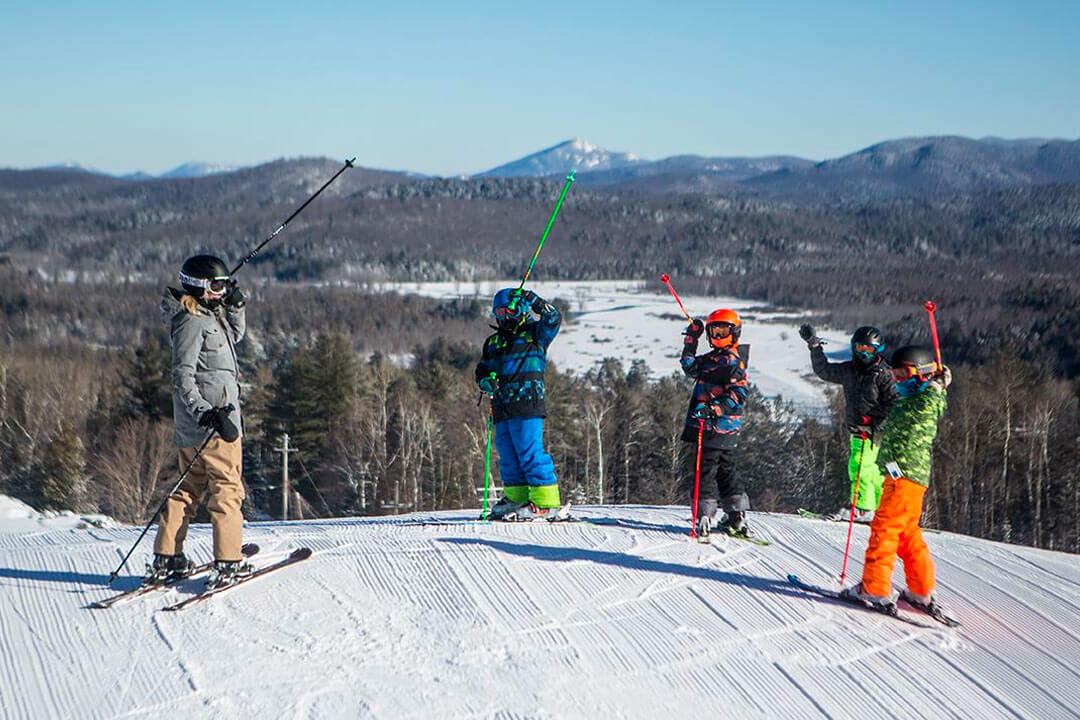 Mount Pisgah
Mount Pisgah is one of three small mountains that surround Saranac Lake (the others being Baker Mountain and Dewey Mountain). It is a 2,090-foot-tall (640 m) mountain located in Essex County, situated at the northern edge of the village of Saranac Lake. The mountain is owned privately and has a small housing development located on its southern side which includes a few dwellings scattered throughout. On the summit of the mountain lies a set of communication towers, while the village ski area is located on its northern side.
The gentle slopes, friendly staff and inviting atmosphere of the ski resort make it a perfect place for families to hit the slopes together and enjoy skiing and tubing. There are fifteen skiable alpine acres, with plenty of green and blue trails for beginner skiers. The mountain offers a slightly more challenging vertical rise of 329 feet – perfect if you're looking to build your skills.
To get up the mountain, skiers can take advantage of a T-bar lift which offers options for both short and long runs. And for those night owls, there's even a night skiing option with lights illuminating the slopes. So whatever your skill level and preferred time of day, you're sure to find something here to fit your skiing needs.  Happy Skiing!
Learn more about Mount Pisgah at the Saranac Lake website.